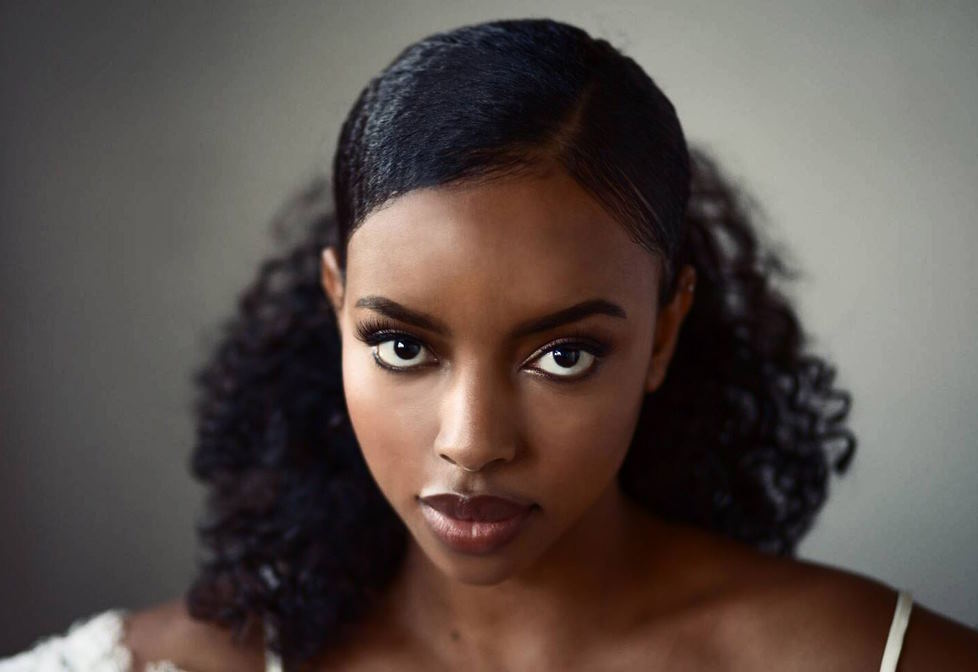 Wedding Makeup for Black Women: Inspiration and Tips
Your wedding day is one of the most special and memorable moments in your life, and every detail matters. As a black woman, finding the perfect makeup look for your wedding day can be challenging. You want to feel confident and beautiful, while also honoring your unique features and skin tone. Whether you're going for a traditional or modern bridal look, it's essential to find the right inspiration and tips to achieve the perfect makeup look. We'll provide you with inspiration from celebrity bridal looks and traditional African bridal makeup, as well as tips for choosing the right foundation, highlighting and contouring, eye makeup, lipstick, and achieving the perfect bridal glow. We'll also touch on additional considerations, such as choosing a skilled makeup artist and the importance of skincare. With these tips, you'll be well on your way to achieving a stunning wedding makeup look that reflects your individual beauty.
Inspiration for Wedding Makeup for Black Women
Celebrity bridal makeup looks:
Many black celebrities have rocked stunning makeup looks on their wedding day. One iconic example is Solange Knowles, who opted for a bold and unique makeup look featuring a bright red lip and striking white eyeliner. Another celebrity who nailed her wedding day makeup is Ciara, who went for a more natural look with subtle contouring and a nude lip. Looking to these celebrity bridal makeup looks can provide you with inspiration for how to highlight your unique features and make a statement on your special day.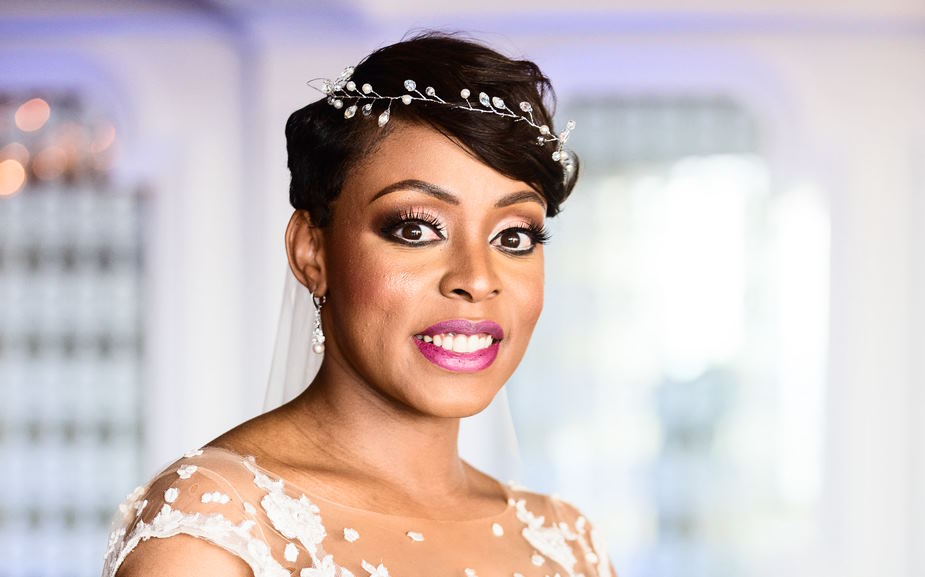 Traditional African bridal makeup:
African bridal makeup is rich in tradition and cultural significance. From the bold and colorful Gele headwrap to intricate tribal patterns painted on the face and body, there are many ways to incorporate African elements into your wedding day makeup. Some popular African bridal makeup styles include the Yoruba "Alaga" look, which features bold colors and embellishments, and the Hausa-Fulani "Sharo" look, which includes intricate henna designs on the hands and feet. Drawing inspiration from these traditional styles can help you create a unique and culturally significant wedding day makeup look.
Social media influencers:
Social media platforms like Instagram and YouTube are excellent resources for finding makeup inspiration for black women. Many talented black makeup artists and influencers share their favorite wedding day makeup looks, from soft and romantic to bold and dramatic. Some popular influencers to follow include Jackie Aina, Nyma Tang, and Alissa Ashley, all of whom share makeup tips and tutorials specifically for black women. By following these influencers, you can stay up-to-date with the latest makeup trends and find inspiration for creating a stunning wedding day look.
Tips for Wedding Makeup for Black Women
Choosing the right foundation:
Choosing the right foundation is essential for a flawless wedding day makeup look. As a black woman, it's important to find a foundation that matches your skin tone and undertone. Look for brands that offer a wide range of shades and undertones, and consider getting color matched by a professional makeup artist. Also, keep in mind that your foundation may need to be slightly different for outdoor weddings, as natural light can affect the appearance of your makeup.
Highlighting and contouring:
Highlighting and contouring are key techniques for creating dimension and definition in your wedding day makeup. As a black woman, it's important to choose the right shades for your skin tone. Look for contour shades that are cool-toned and not too dark, and highlight shades that have a subtle sheen rather than a stark white shimmer. Be sure to blend well and use a light hand to avoid a heavy or cakey appearance.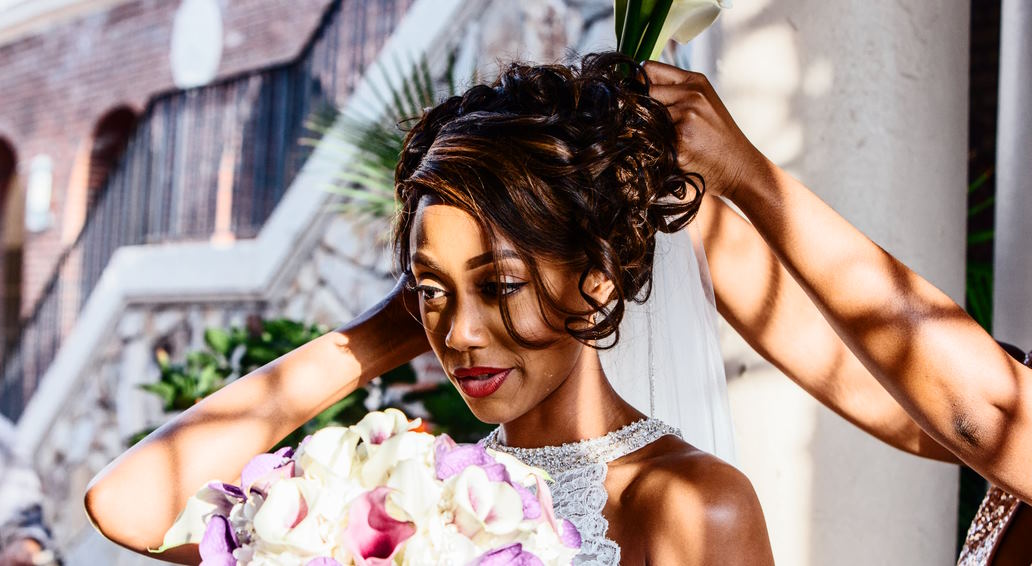 Eye makeup tips:
Eye makeup can make a big impact on your wedding day look. For a classic and elegant look, consider a neutral or smoky eye with winged eyeliner. You can also add a pop of color with a bold eyeshadow shade or a glittery accent. When choosing eyeshadow, look for brands that offer pigmented and long-lasting formulas, and be sure to use a primer to ensure your eye makeup stays in place throughout the day.
Lipstick and lip gloss recommendations:
When choosing a lipstick or lip gloss for your wedding day, consider the overall look you're going for. For a classic and timeless look, opt for a neutral or rosy shade. If you want to make a statement, go for a bold red or deep berry shade. Look for long-lasting formulas that won't transfer or smudge throughout the day, and consider using a lip liner to ensure a precise and clean application.
Nailing the perfect bridal glow:
A bridal glow is all about achieving a radiant and luminous complexion. As a black woman, look for highlighters that complement your skin tone, such as golden or bronze shades. You can also use a moisturizing primer to create a smooth and hydrated base, and add a setting spray or powder to ensure your makeup stays in place all day. Remember, the key to a bridal glow is a healthy and well-nourished complexion, so be sure to prioritize skincare leading up to your wedding day.